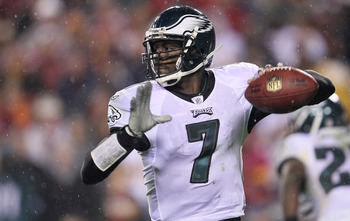 Here on the cusp of Week 14, three-quarters of the way through the season, most media outlets are coming out and naming Tom Brady as the leading candidate for NFL MVP, ahead of Michael Vick, Philip Rivers, and a host of other candidates. Brady has certainly put together a strong case, but the professed margin by which he leads this race is astonishing. Dan Wetzel of Yahoo! Sports
said Wednesday
that the race "isn't even close" as far as he is concerned. At ESPN, Mike Sando wrote that Brady
could sit the rest of the season and contest for the award
: "It's that much of a runaway heading into Week 14." Wetzel went so far as to acknowledge Vick's candidacy, but called the contest between the two a question of "heart v. head"--
emotion over Vick's comeback against Brady's performance.
Awards based on performance should not be based on emotion, so I'm going to throw that aspect out, and dissect the two from an on-the-field perspective. Let's start with the numbers, shall we?
Tom Brady has some truly ridiculous stats: after 12 games, he has put together 3,029 yards and 27 touchdowns against
four
interceptions
, all on the way to a 10-2 record. His passer rating is a sky-high 109.5, a number good for
eighth-best in the history of the game
if it holds. He has done this with a patchwork collection of players, including a stellar receiving corps (Deion Branch, Randy Moss, and Wes Welker), two rookie tight ends (Aaron Hernandez and Rob Gronkowski), serviceable running backs in Danny Woodhead and BenJarvus Green-Ellis (among the league leaders in names per name), and an offensive line that now showcases three Pro Bowlers with the return of Logan Mankins. He has an active streak of seven games without an interception going into Sunday's showdown with the Bears.
Michael Vick, on the other hand, got his seven-game streak without a pick out of the way to start the season. He has a 6-2 record as a starter (he came on as a back-up in the loss to Green Bay), has a passer rating of 105.7, just under four points behind Brady (not exactly a comfortable margin, as Sando would have one believe). His 15 touchdowns and two interceptions hold up to Brady's ratio. He has had the help of explosive weapons in Desean Jackson, Jeremy Maclin and Lesean McCoy, a talented but inconsistent Brent Celek, but he has had to deal with an injury-plagued offensive line with only one Pro Bowler, Jason Peters.
Both are dominant quarterbacks who control games and force defensive coordinators to shape their plans around their styles. It is next to impossible to limit Brady's throwing options and stop his impeccably accurate throws. On the other side, Vick has mastered the deep ball this year, adding another weapon to his arsenal of speed and vicious arm strength.
The simillarities end there, however. Brady is, ultimately, a single-threat quarterback. Of all the ways that he has shredded defenses this year, his feet is not one of them.
And now we come to the statistic that, oddly enough, is conveniently ignored by every single pro-Brady argument. Brady doesn't necessarily need to run, as his offensive line is one of the best in the country, but his 28 carries for 17 yards is fourth-worst among starting quarterbacks, leading only Brett Favre, Peyton Manning, and Drew Brees.
On the other hand, if I asked you to name the leading rushing quarterback and gave you one guess, most of you would come up with Michael Vick. His 467 yards on the ground are without a doubt
comfortably
the best--Josh Freeman's 291 is the next-highest total--and this is from a Vick that has taken more to passing, looking for the throw before taking off. His offensive line has been average at best, leading to 23 sacks and countless hits, but has forced him to take his electric playmaking up the field at a
staggering 6.3 yards per carry
(compare to Jamaal Charles' 6.2).
In short, Vick has shown the playmaking ability of a running back and now as a quarterback, making him valuable as two players, as opposed to the one offered by Brady.
Speaking of which, the debate here is over who gets named the "most valuable player," not the "most best player"--and not just for grammatical reasons. A player has to have the most significant value to their team and make a significant impact. There is no doubt that Brady is invaluable to the Patriots, but he has had an absurdly talented supporting cast.
People write this off as freak coincidence, as players all having abnormally good seasons at the same time. This is partially true, but we're not talking about players who have underachieved and languished for years, with the possible exceptions of Danny Woodhead and Deion Branch. As mentioned earlier, Hernandez and Gronkowski are rookies, Tate is a gifted special teams player who
holds the record
for NCAA return yardage, and Green-Ellis is in his first year atop the depth chart . As for the veterans, Randy Moss is considered by some as the greatest receiver of his generation, and Wes Welker is regarded as the best slot receiver in the league.
Vick has been doing more with less in Philadelphia. Desean Jackson is one of the best receievers in the NFC but has been a victim of injury, Jeremy Maclin is an athletic receiver yet not quite on par with Welker, and Brent Celek has had one drop or incompletion for every fantastic catch. And the offensive line's woes have already been mentioned; ask yourself, what would happen if these two quarterbacks switched positions? Picture Brady in an Eagles uniform (I know, it's hard for me, too) picking himself up off the turf every other play.
Or better yet, imagine a starting-grade quarterback in place of Vick--say, Kevin Kolb. This imagining led
Peter King
and the
analysts at ESPN
to rank Philadelphia third and second in the NFC East, respectively. Insert Michael Vick, and this Philadelphia team is now 8-4, ahead by a game in their division, and headed to the playoffs if it can continue its current form.
In conclusion, both quarterbacks have had fantastic seasons and are deserving of the MVP award. Brady has been phenomenal as usual, making pinpoint passes and exerting his will as a leader and a general on the field, but has done so with a greater talent level around him, including an offensive line that gives him time to deliver those passes. Vick has been more valuable to his team, carrying them to wins with his throwing and running ability, combining efficiency with an unmatched level of ability.
If there is truly a most valuable player in the league, his name is Michael Vick.